The Hottest Female Athletes [Part 3]
http://sports.realinfozones.com/2016/02/the-hottest-female-athletes-part-3.html
Miesha Tate:
Ronda Rousey isn't the only MMA fighter turning heads in the octagon.
Miesha Tate
is another dangerous woman with striking good looks. She's the former Strikeforce Bantamwight Champ and also won a silver medal at the FILA Grappling Championships.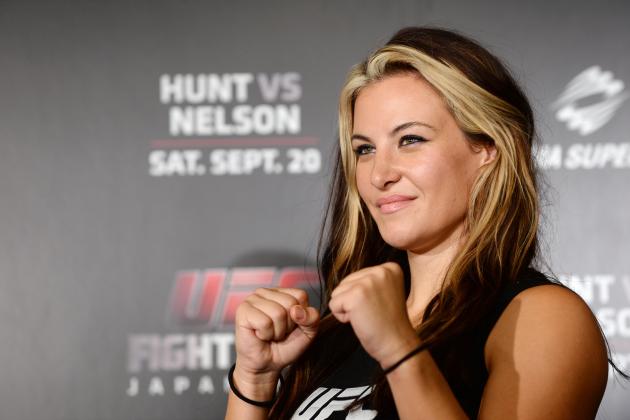 Miesha Tate: The Hottest Female Athletes [Part 3]
Sasha Cohen:
Sasha Cohen
started off as a gymnast at a very young age, then switched to ice skating at seven. She made her first trip to the Olympics in 2002, where she finished 4th. At the 2006 Games, she won a silver medal. Cohen has participated in Stars on Ice and also done commercials and made guest appearances on a few TV shows. She played herself in 2007's Blades of Glory.
Skylar Diggins:
Diggins was one of the top recruited high school basketball players in the nation coming out of Washington High in South Bend, IN. She stayed home and attended Notre Dame, where she became one of the best players in the nation as a sophomore. She won Big East Player of the Year in 2012 and 2013.
Alicia Sacramone: The Hottest Female Athletes [Part 3]
Victoria Pendleton: Pendleton is a former British track cyclist who won nine world titles and a gold medal in the keirin discipline at the 2012 Summer Olympics. She was a contestant on Strictly Come Dancing, the British version of Dancing with the Stars, and has appeared in FHM.


Lolo Jones: Lori Jones, nicknamed "Lolo," is the American record holder in the 60m hurdles. Her famous trip on the last hurdle during the 2008 Beijing Olympics cost her the gold. She made the finals of the 100m hurdles in 2012, but didn't medal. Unfazed, Jones has now turned her attention to bobsledding with an eye on the 2014 Winter Games in Sochi, Russia.


Alicia Sacramone:
Alicia Sacramone
is a force to be reckoned with in the gymnastics world. She won a silver medal at the 2008 Olympics and is the most decorated US gymnast in the history of the World Championships. She was one of the first athletes to be signed as a CoverGirl spokesmodel and appeared tastefully nude in the 2011 ESPN Body Issue.
Vitalia Diatchenko:
Vitalia Diatchenko
seems to be taking a break from tennis in 2012 after suffering a knee injury. At the height of her career, the Russian beauty was ranked No. 60 in doubles and No. 105 in singles.
Natalie Gulbis: Sacramento native, Natalie Gulbis has been a professional golfer since 2001, earning three wins. She's probably better known for her sex symbol image at this point than her golf achievements, having appeared in her own swimsuit calendar and the SI Swimsuit Issue in 2012.
Maria Verchenova:
Russian golf pro
Maria Verchenova
is sexy and she knows it. She said about her golf apparel:
"I always like to bring something extra special to the golf course, so if I'm wearing sexier, more stylish stuff like a shorter skirt or a nice tennis-style dress and people notice then great."
Maria Verchenova:

The Hottest Female Athletes [Part 3]
She was the first Russian to become a full-time member of the Ladies European Tour and has plenty of top-10 finishes under her belt.
Gina Carano:
Former MMA fighter,
Gina Carano
has become the most successful crossover star in the sport. She was often referred to as "The Face of Women's MMA." In 2012, she starred in Steven Soderbergh'sHaywire and in Fast & Furious 6 in 2013.