Financial arms race threatens chilling rugby rift
http://sports.realinfozones.com/2016/01/financial-arms-race-threatens-chilling.html
New Year's Day was the official start point for Premiership clubs to be permitted to approach rival teams' players who are out of contract this summer – a time to plug gaps in a squad for next season and for uncomfortable conversations as coaches tell unwanted players they need to find a new employer.
A vibrant, well-regulated transfer market has the potential to increase interest in the game, with excited conjecture over the movement and pay deals of star players such as the Wales full-back Leigh Halfpenny. But there are worries that this will damage rugby's ethos of loyalty and teamship, while Conor O'Shea of Harlequins is among the directors of rugby who see two specific threats to keep a watchful eye on.
The first, according to O'Shea, is the possibility of rugby's increasing broadcast and commercial revenues encouraging agents to sow seeds of unrest among players.
Leicester's Manu Tuilagi is the highest paid player in the Premiership with wages of £425,000 per year Getty Images
The second is the fear of a gap developing in the Premiership, with clubs unable or unwilling to spend up to the rapidly rising salary cap falling behind. "In any walk of life, if you move you will get paid more," says O'Shea, whose team playing at Worcester today includes some of England's highest earners in Chris Robshaw, Mike Brown and Danny Care. "I have agents pushing players across my desk all the time. Agents are a necessary evil – I get along fine with most of them. But a player might move for an extra £20,000 or £30,000, and it's when you are pushed in that regard and you know it is pushing for pushing's sake, that's when you get slightly irritated. You've 51 guys in the squad including the academy and only 15 can start each week. As more money comes into the game, the rewards will be more and you don't want agents to be the driver of things. There is potential for a murky world. I hope we keep everything as above board as we can."
Most of the current season's transfer dealings were done to coincide with the completion of the World Cup in October, when 50 top international players found new clubs in the Premiership, Pro12 and Top 14 – led, wages-wise, by Dan Carter on a reputed £700,000 a year at Racing 92 in Paris. Between now and June the activity will re-intensify. The Rugby Football Union's list of registered agents numbers between 80 and 100, but just five agencies look after more than half the Premiership's players between them.
Tim Lopez, an experienced agent at the Essentially company whose clients include Robshaw, George North, Bryan Habana, Richie McCaw and Carter, says: "Generally players aren't going to [want to] move unless they have fallen out of love with the club, the coach, their team-mates. They are unlikely to earn a huge amount more elsewhere, particularly if the [buying] club has splashed out on a transfer fee." But Lopez admits the number of players being bought out of their contracts may increase. "It's not common," he says, "but it is becoming more prevalent."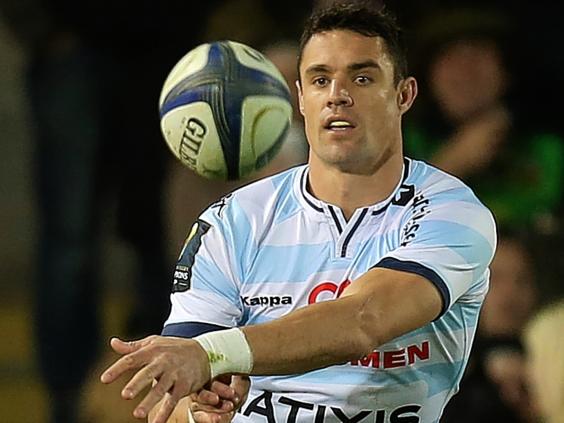 Dan Carter (£700,000 PA) is the highest paid player in Europe
The Halfpenny saga appears to have been resolved with the goal-kicking genius choosing to stay at Toulon. But he could have moved to Wasps on £700,000, and the capture of these "stardust" players, as London Irish's head of operations Glenn Delaney calls them, generates fear of a split between haves and have-nots. Each Premiership club is allowed two "excluded players" whose wages do not count towards the salary cap. The cap has shot up from £4m in 2010, so that in the 2017-18 season it will be roughly £9m for a club laden with international players. The base level by then will be £7m plus the excluded players (possibly 2 x £400,000), credits for players unavailable while on international duty (up to £80,000 per player) and injury cover up to £400,000.
This hike has been driven by clubs with wealthy owners and healthy off-field operations, and is justified, its proponents say, by two factors. One is the money the clubs are paid for releasing their England players by the RFU, whose own revenues are rising on the back of increased Twickenham ticket prices. The second is the Premiership's broadcast deal with BT that was renewed last March up to 2021.
"It's a hell of a challenge," Delaney told Talksport last weekend, "and it's going to get a bit silly if we carry on this way. You don't want this to be an arms race. Clubs are still running the same-sized squads of 40 to 44 players so it is those top-end players driving the market…[which] gives clubs with big order books of funds the opportunity to add stardust. We [London Irish] have fabulous owners that support us, but we're trying to make this into a business that will wash its own face. We've added quality to our team and are remaining prudent while optimistic."
The severest angst of late was expressed at Leicester, who re-signed their England backs Manu Tuilagi and Ben Youngs, but only after intense press speculation touting moves to rival clubs Wasps (with their new money in Coventry), Worcester and Bath. "Obscene" was how Leicester's director of rugby Richard Cockerill described the supposed offers to Tuilagi, whose reported new deal of £425,000 a year edged him ahead of John Afoa, the Gloucester and All Blacks prop routinely quoted as the Premiership's highest-paid player on around £400,000 when he signed in 2014.
The Premiership's most sought-after players tend to be tightheads like Afoa and fly-halves with a good kicking percentage. Nick Evans gave up his All Black career for a reported £250,000 a year on joining Harlequins in 2008, and the club would say the now 35-year-old No 10 has given value for money. At the other end of the scale, a common-or-garden squad wing may be on a middling five-figure salary. England stars are well remunerated. A regular Red Rose player will command more than £300,000 with his club, plus fees and bonuses of £150,000-£200,000 depending on Test results, and individual commercial revenue of £100,000 or more.
At the moment, southern hemisphere stars remain less likely to head to England than to France because the TV deal there is bigger, and clubs have heavier-hitting sponsors. But Wales's Taulupe Faletau and France's Louis Picamoles will join Bath and Northampton respectively next season, and Springboks Francois Louw, Jean de Villiers and Victor Matfield are already in the Premiership. The balance is shifting