Three Things: Chelsea vs. Arsenal
http://sports.realinfozones.com/2014/03/three-things-chelsea-vs-arsenal.html
LONDON -- Three conclusions from Chelsea's emphatic but also controversial 6-0 win over Premier League rivals Arsenal at Stamford Bridge.
Oscar helped himself to his second and Chelsea's fifth after half-time.
1. Chelsea's big-match mentality
Although many teams head into games of this magnitude with hope rather than expectation in their hearts, Chelsea exude the latter when confronted with a direct rival.
The presence of a manager in Jose Mourinho whose winning mentality has carried him so far in the game and a captain in John Terry whose dogged determination appears to drag those in blue to fresh heights when the stakes are raised.
From the moment Samuel Eto'o curled Chelsea into the lead in this game, the result was not in doubt, and that might be why the London team wearing blue shirts and not their rivals sporting red jerseys have been collecting trophies in a period when Arsene Wenger's Gunners have been content to settle for second best.
Evidence of Chelsea's killer mentality was displayed as they continued to go for the throat of their rivals when they had them at their mercy.
Second-half goals continued to flow, with the celebrations from Mourinho on the touchline as exuberant as they might have been if his side had just opened the scoring. The difference between a winner and a wannabe? Or is that too harsh?
A winning mentality is just as important to any team with trophy ambitions as quality players, and, with Arsenal's title hopes now distant at best, their fragile winning mentality will be put to the test when they take on Wigan in what has become a potentially season-saving FA Cup semifinal at Wembley next month.
For all the adulation Wenger has received in recent days for reaching 1,000 games in charge of Arsenal, he needs a couple of Wembley wins to finish off this season or the goodwill he attracts from so many in the game might evaporate.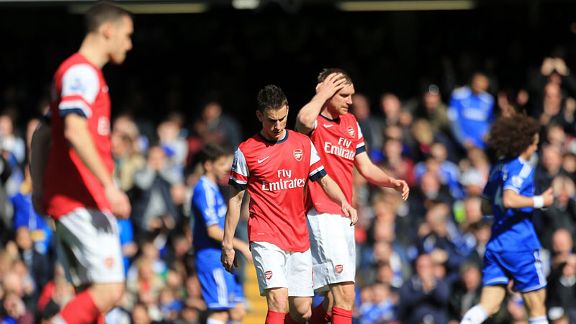 PA Photos Arsenal react to a demotivating trip to Stamford Bridge.
2. Arsenal's holes in defence
Although the Kieran Gibbs red card controversy might steal a bulk of the postmatch headlines in a London derby that will live long in the memory for so many reasons, the error of referee Andre Marriner should not disguise a grim reality that Arsenal fluffed their lines once again when opportunity knocked for them in this unpredictable title race.
Gibbs was being cruelly exposed by Andre Schuerrle long before he was unwittingly involved in the handball incident that led to Chelsea's third goal, with the gaping chasm on the left side of Arsenal's defensive line providing the home side with opportunities aplenty to storm forward.
In addition, Arsenal's noted ability to hang on to the ball for long periods was missing in the opening quarter of an hour, with their lack of midfield control hardly helped by not starting Mathieu Flamini in a game when his combative presence could have been so useful. That is a decision Gunners boss Wenger needs to explain.
Arsenal looked nervous in the opening exchanges of a game that had the potential to make or break their title bid, and it is not the first time they have shown signs of edginess when confronted with a huge match against classy opponents.
It might seem cruel to criticise Wenger on a day when he rightly was lauded for reaching the 1,000-game mark as Arsenal manager, but the buck has to stop with the tactician whose record in the games against his chief rivals has been alarmingly poor in recent years.
Can Arsenal recover from this? Few would now expect a title-winning party will be staged at Emirates Stadium on the second weekend of May, with the club's supporters the best to judge whether winning the FA Cup would be suitable compensation for a missed opportunity this season.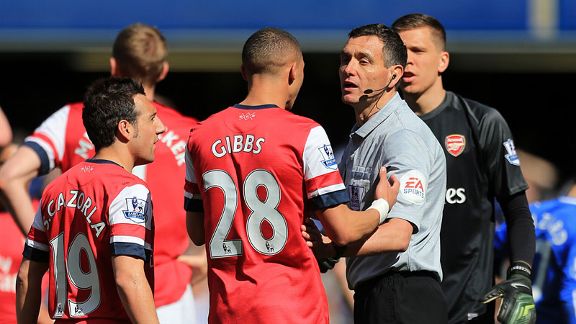 PA Photos Kieran Gibbs reacts to being dismissed at Chelsea.
3. The red card mystery
It was evident from the moment Arsenal midfielder Alex Oxlade-Chamberlain produced what can only be described as a miraculous save -- although the shot might not have been on target -- to try to avert a third Chelsea goal after 16 minutes that referee Marriner had missed the incident, with the extravagant reaction from Chelsea's players and Mourinho on the touchline alerting the official to the incident.
Then the confusion reached new, unfathomable levels for the befuddled referee. Gibbs was standing close to Oxlade-Chamberlain after the latter's "wonder-save," with a melee of bodies masking the view of Marriner and adding to his confusion as he attempted to untangle himself from the web he was suddenly caught in.
The referee seemed to receive information from one of his assistants in his earpiece before ordering Gibbs from the field, much to the bemusement of the understandably irate Arsenal full-back. His injustice was complete, but did it really need to be left as thus?
In an era when fourth officials have access to TV screens to see instant replays of key incidents, couldn't Marriner's embarrassment have been removed had Gibbs been allowed to return to the field once the error had been identified?
Oxlade-Chamberlain did his bit to try to save the referee from what is likely to be a harsh postmatch report as he tried to remedy the situation with a simple admission to Marriner: "It was me," he pleaded as Gibbs made his way down the Stamford Bridge tunnel.
In the end, the decision stood, and, although it might not have mattered in the grand scheme of the game which Arsenal player was banished from the field, incidents of mistaken identity do not need to happen in a modern game that should assist referees when errors are made rather than leave them to stand.