A number to forget for Wenger and Arsenal
http://sports.realinfozones.com/2014/03/a-number-to-forget-for-wenger-and.html
LONDON -- So often, these kind of landmark occasions end up as flat affairs, but few could have expected that Arsenal would get absolutely flattened, 6-0.
As regards a collapse in another big name, not least given it came on the day of such a milestone for their manager, that is another issue altogether. The nature of this defeat was all too familiar; it was just taken further than ever before.
For reasons even beyond his 1000th game as Gunners boss, Arsene Wenger had talked this up beforehand as the biggest game of his team's season so far. Oh, it ended up big alright: Arsenal suffered their heaviest ever defeat at Chelsea and Jose Mourinho enjoyed his biggest win as manager at Stamford Bridge.
Chelsea claimed an emphatic 6-0 win over 10-man Arsenal on Saturday.
It said more than all the tributes paid to him this week that Wenger did not make a single comment to the international media afterwards, refusing to come out for his press conference.
The Arsenal manager did speak to the BBC and admitted that, on what was supposed to be one of finest celebrations of his career, it was instead "one of the worst days", adding: "This defeat is my fault, I take full responsibility for it."
There was only one other word Wenger offered: "nightmare".
The most galling part for the 64-year-old -- other, of course, than such a dismally humiliating scoreline in such a decisive game -- was that this performance defined many of the problems of his last 500 games, and especially this season.
Wenger has again failed to defeat Mourinho and Arsenal once more have failed to rise to the challenge of a title rival on the road. Furthermore, for all the superior strength of the opposition, Wenger's side more than contributed to their own downfall with poor errors and worse decisions.
Most damning of all, there is the distinct pattern of these games. Arsenal have now conceded a total of 17 goals in their visits to their three title rivals this season, and eight of them have come in the opening 20 minutes of those encounters.
So it was at Stamford Bridge. For all the justified controversy about Andre Marriner's atrocious decision to send off Kieran Gibbs for Alex Oxlade-Chamberlain's handball, it should not obscure the truth: Chelsea had already vigorously secured victory by that point.
Once Olivier Giroud had missed a fourth-minute chance that could genuinely have altered the course of the game, Mourinho's side never let up. Only 38 seconds passed between that Petr Cech save and the beginning of an utter embarrassment. Chelsea sensed a flaw, ruthlessly and relentlessly went for it and Arsenal's entire defensive plan collapsed.
Both of the opening goals came through the absolute maximisation of single errors, as Chelsea forcefully trampled through the middle of the pitch before their most technical players added finesse in the finishes.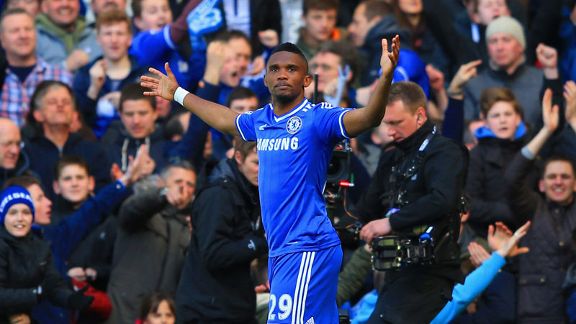 Getty ImagesEto'o celebrates the goal that started Chelsea on the road to an emphatic win.
Samuel Eto'o sublimely curled the ball around Wojciech Szczesny for the first on four minutes, before Andre Schuerrle precisely drilled it past the Pole for the second just moments later.
It was another whirlpool beginning for Arsenal, but one that, by now, they should have been used to.
They were not, though, and Arsenal were evidently frazzled as was illustrated by Oxlade-Chamberlain being panicked into a preposterous diving handball. It was evidence of a team that had lost more than the game.
Marriner, however, gave up significant authority by sending off Gibbs despite Oxlade-Chamberlain explicitly stating that he had committed the offence. It made no difference to Eden Hazard, who despatched the ball into the net.
Following the game, Mourinho summed events up as clinically as his attackers had finished: "We come to kill, and in 10 minutes we destroy."
It was the story of the game, the story of Arsenal's season against their closest rivals and, likely, the story of their title challenge.
Wenger said he didn't think "there's too much need to talk about the mistakes we made" but the concern is that many of them were so smiliar. Mourinho had also identified them.
"We were very, very good," the Chelsea manager said. "We pressed very, very high. We start doing that. We know they want the ball, we pressed them very high immediately, recovered the ball and attacking the space very, very fast."
The opening 10 minutes, Mourinho stated, were "amazing".
Many of Chelsea's players certainly were, not least the dominant Nemanja Matic and the dynamic Schuerrle, as the leaders showed all the qualities that have taken them to the top of the table.
"After that, it's a penalty, red card, 3-0, easy," Mourinho added. "But I keep the 10 minutes in my analysis of the game, it's about the 10 minutes."
From that point, though, it developed into another story entirely: "a good hiding", as even Wenger lamentably admitted.
There was another element to it too, which was frightening for both the Arsenal manager and the rest of the pack.
It was not just that Chelsea made it so embarrassing but that there was such a will to do so; such a conspicuous attempt to so brutally go for the jugular. This was the real "kill" that Mourinho had talked about, an annihilation.
Just before half-time, Fernando Torres -- who had come on for the injured Eto'o -- tore down the right before crossing for Oscar, who fired into the roof of the net.
On 66 minutes, the Brazilian ensured Mourinho broke a ceiling as Chelsea went 5-0 up. The Portuguese's previous best winning margin in the Premier League had been by four goals. This was some fixture in which to improve on that record.
By the end, after Mohamed Salah had slotted in his first goal for Chelsea, Wenger's 1000 was no longer the figure anyone was talking about.
It was 6-0, a sensational scoreline about which even Mourinho purred. He didn't want to say it outright but the sense of satisfaction was undeniably there.
"On top of that, we got a result with some numbers that, for our fans, are special numbers," said the Portuguese.
This was a special game, but not in the way anyone expected beforehand.